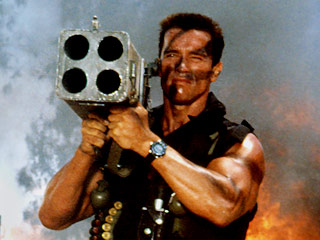 Saturday special, the soundtrack to an 80's classic. James Horner's, steel drum loving, stirring score, one of Arnie's best films, Commando. Arnie has to rescue one of those lasses from Charmed from nasty Dan Hedaya and defeat ex-comrade and now rival Bennet ( Vernon Wells, under used guy). I really shouldn't have to explain anything about this film to you. Its almost an unwritten rule for anyone that grew up in the 80's.
The score itself wasn't released until 2003 if I remember correctly. It was part of some film club series and ended up being a pretty limited release. James Horner, for those that didn't know, loves steel drums. He used them quite a bit on the score for Walter Hill's
48 Hours
back in 1982.
As a special bonus as well I have included the Power Station track
"We Fight For Love"
. This plays over the end credits and was never included on the original release due to licensing but I have included it within the download link along with the album artwork. That's it for now, listen to this when you are cruising around town in the early hours, waiting for a date or just to inject some drama into your routine. My drummer even had me remove this from our van playlist due to it making him feel like something was going to happen at any moment. So here you go..........