Its no secret of my love for Company Flow ( search the archives on here), but up until a few years ago I never really dug into what DJ Mr Len did after the trail blazing Brooklyn trio called it quits back in 2001. I followed El-P pretty obsessively across all his solo works and spent some time absorbing Bigg Jus's Black Mamba Serums but Len seemed pass me by.
Mr Len, Leonard "Lenny" Smythe to his friends, followed the break up with this very album. Acting as a sort of mixtape, it showcases a sound you have come to expect from one of the guys behind the dark
Funcrusher Plus
album but also leans way more towards standard structures. Sort of like trying to jam a huge, dark, nasty creature into a presentable glass box for people to stare at. That makes sense right?
His choice of vocalists on here is pretty spot on. Each track obviously playing to that lyricists talents and vibe. Jean Grae stands out on her contribution
"Taco Day"
, that's pretty intense in its narrative. Mass Influence, Lord Sear and Chubb Rock all provide pretty solid accompaniment. The only lull in the albums running is the collaboration with metalcore chumps
Agents Of Man
. Which is just lame. Despite that, Pity The Fool makes a pretty sweet mixtape for random journeys and in my experience household cleaning.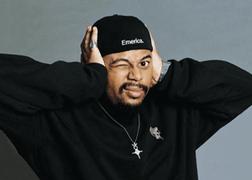 That's right Lenny, Agents Of Man was a bad idea.